Texas Hill Country Wineries & Tasting Rooms
The Texas Hill Country (THC) AVA wine-growing region of Texas is home to over 200 wineries and vineyards, and encompasses Austin and San Antonio to the east, Uvalde to the south, Junction to the west, Lampasas to the north, and Fredericksburg in the center.
AVA boundary map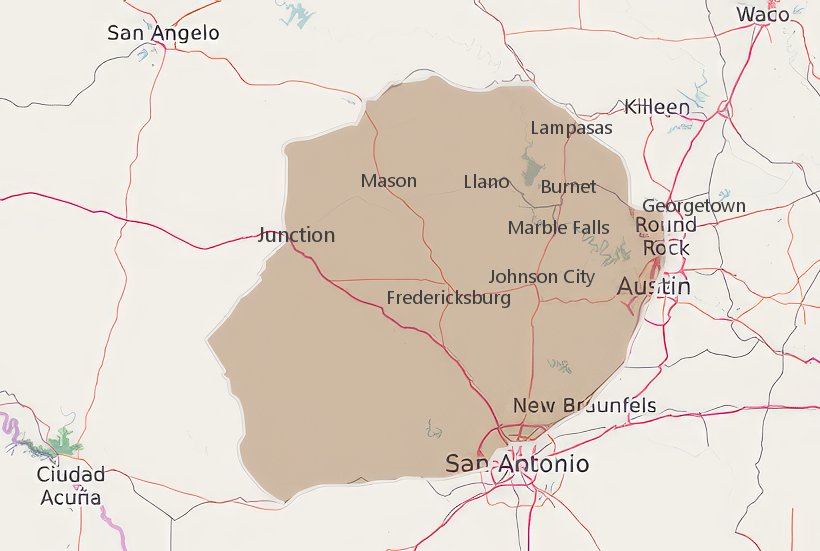 AVA city map
Exploring the Texas Hill Country Wine Region
Stretching across central Texas and encompassing parts of Austin and San Antonio's metropolitan areas, the Texas Hill Country AVA (American Viticultural Area) is the beating heart of the state's rapidly growing wine industry.
A Brief History
While wine production in Texas dates back to the Spanish missionaries in the 17th century, it's the modern movement that began in the 1970s that set Texas on its path to being recognized as a serious wine-producing region. Since then, Texas Hill Country has burgeoned, now housing over 200 wineries, making it the sixth-largest AVA in the U.S. in terms of area.
The Terroir
The Hill Country's terroir is unique. Its calcareous soil, diverse climate marked by hot days and cool nights, and elevation ranging from 425 to 2,500 feet make it suitable for cultivating a variety of grapes. Mediterranean grape varieties like Tempranillo, Grenache, and Viognier flourish, as do other varietals such as Syrah, Merlot, and the quintessentially Texan Tannat.
A Thriving Wine Scene
From charming boutique wineries to sprawling vineyard estates, Texas Hill Country offers a rich tapestry of wine experiences:
Innovative Wineries: While traditional winemaking techniques are revered, many Texas winemakers aren't afraid to experiment. This results in a diverse range of wines, from classic profiles to unique blends that can't be found elsewhere.
Wine Trails: To help visitors navigate, the region has a number of wine trails, such as the Driftwood Wine Trail, Dripping Wine Trail, Lake Travis Wine Trail, and the Thirsty Oaks. These routes encompass a selection of wineries, often tied together by seasonal events.
Tasting Rooms & Tours: Beyond just wine tasting, many wineries offer immersive experiences. Whether it's a tour of the vineyard, barrel tasting sessions, or blending workshops, there's something for both novices and connoisseurs.
Visiting Texas Hill Country
The best times to visit are during the spring, when wildflowers are in full bloom, and fall, which offers milder weather and the excitement of the harvest season. Many wineries host special events, so it's worth checking the calendar before planning your trip.